The A10-RACK offers convenient mounting, powering, RF, and audio connectivity for four uni- or SuperSlot wireless receivers in its 1 RU chassis. It is designed for dual-channel receivers from Audio Limited, including the A10-RX, plus slot receivers from Lectrosonics and Wisycom. The A10-RACK includes built-in antenna distribution with powering for active antennas. Up to eight channels of audio from single or dual-channel receivers appear on both its XLR outputs and over Dante™ audio-over-Ethernet.
Dante™ audio networking offers the convenience of a single CAT5 Ethernet connection to carry the audio signal from the eight channels of the A10-RACK. Dante is alway active, whether the receiver is set for analogue or AES digital output. When used with other Dante-compatible devices, complex systems with comprehensive routing can be built. Monitoring and routing of signals from transmitters to receivers is simplified with Dante Controller a free software application from Audinate.
The A10-RACK has an integrated RF distribution amplifier. Its two RF inputs offer selectable 12 V powering for active antennas, plus loop-thru connections for another A10-RACK. A single pair of antennas can be used for up to 16 audio channels.
The A10-RACK is powered from standard 4-pin XLR, 10-18 VDC power supplies, such as Sound Devices XL-WP4 (shown right). Power supplies require 3 amps (minimum) for proper powering of the A10-RACK and connected slot receivers.
The Audio Limited A10-RACK is compatible with Wavemark's Wavetool for iOS and Mac. Wavetool uses a computer, phone or tablet to display key information for the A10-RX, such as RF status, RF frequency, TX battery levels, and audio signal history. With many features in one application, Wavetool makes it easy to troubleshoot issues remotely.
Learn more and purchase Wavetool directly from Wavemark.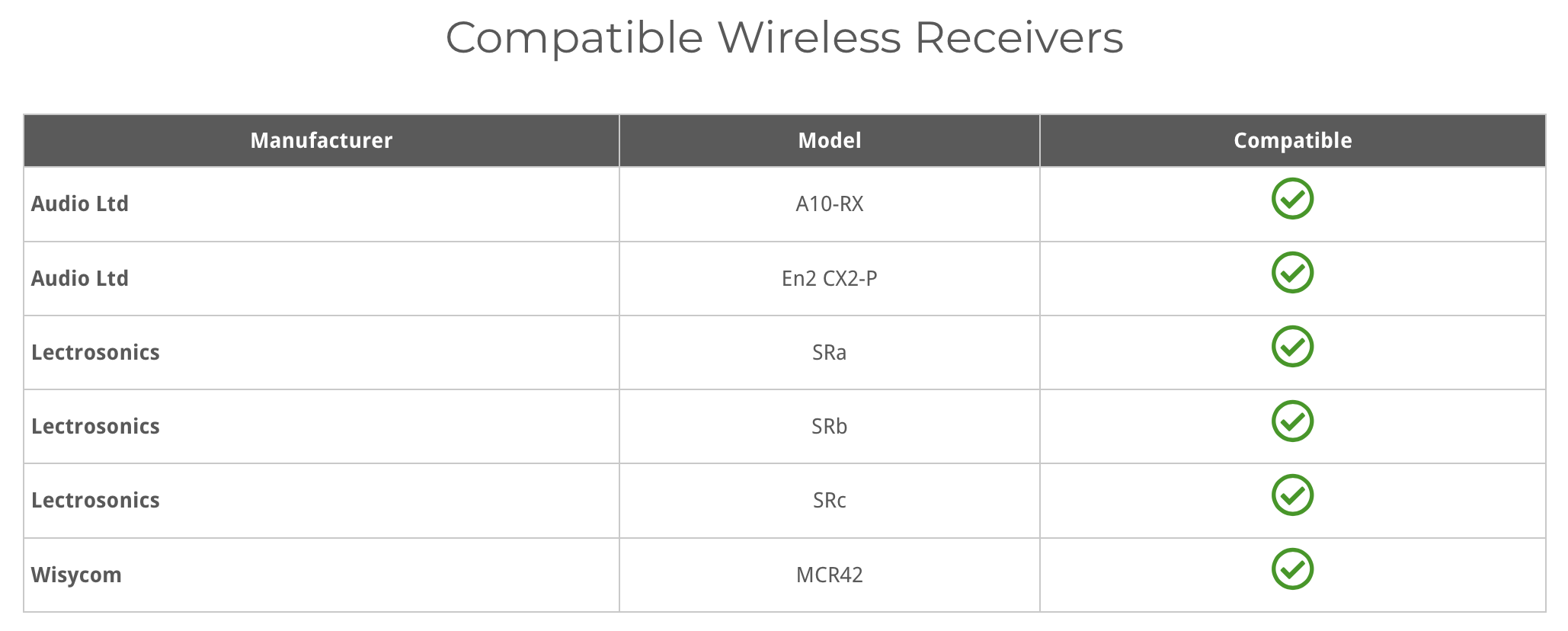 Referencia CINESOL : A10-RACK
accepts up to four, two-channel wireless receivers (receivers sold separately)

audio output on analogue/AES3 and Dante

built-in power distribution

built-in antenna distribution with selectable power for active antennas

powered from 4-pin XLR input (10-18 VDC)

USB port for firmware updates and serial access
| | |
| --- | --- |
| RF Frequency Range | 470-694 MHz |
| Number of Receivers | four two-channel, diversity receivers |
| Active Distribution Amplifier Bandwidth | 224 MHz, with powering for active antennas (12 V, 200 mA) |
| Antenna Inputs | 2 x BNC 50 Ohms |
| RF Outputs | 2 x BNC 50 Ohms |
| Power | 10–18 Volts DC, 3 amps via 4-pin XLR male |
| Audio Outputs | 8 x 3 pin XLR-M (analogue and/or AES3) |
| Dante Output | 2 x RJ45 to provide Dante™ primary and secondary |
| Output, Analogue | +18 dBu maximum, balanced |
| Output, Digital | AES3, transformer-balanced |
| Audio Frequency Response | 20-20,000 Hz ±1 dB |
| Service Port | USB type B |
| Dimensions (H x W x D) | 442 mm x 210 mm x 45 mm (without rack ears), 1 RU |
| Weight (without receivers) | 3.6 kg |
Si deseas extender la garantía de tu aparato de un año a dos, solo tienes que registrarlo en el sitio de Sound Devices.
Más información, articulos técnicos y comentarios sobre este producto, y mucho más en la página web dedicada de Audio Limited.
¿Este producto te interesa?